This post may contain affiliate links. This means we may earn money or products from the companies mentioned in this post.
Sometimes our "fancy" camera takes the back seat to the cameras on our phones. In the everyday hustle and bustle, we don't use our big cameras the way we intended when we made the expensive purchase. The next thing you know, when we're planning our dream vacation, our gear and cameras are not ready to be used. However, it's possible to stay on top of being organized and prepared so you can enjoy your vacation and capture the perfect memories. I'll share my top tips for getting your gear ready to have that ideal getaway. The downloadable checklist can be easily laminated and kept in your camera bag, so you're prepared to go every time you want to use your camera. So let's dive into getting your camera gear ready for vacation.
And if you're like my family, we have multiple cameras. We have a large DSLR with extra lenses, a medium-sized camera, an underwater point-and-shoot, a video camera like a go-pro, and another small point-and-shoot about the size of a phone, plus our phones!
Decision Time
The first thing in preparing your camera gear for your vacation is to make a decision on which camera(s) you're going to take. For us, it usually depends on if we are flying or traveling by car. You need to keep in mind how much space you have and what kinds of photographs you want to capture while you're away. Sometimes having a heavy camera to lug around is not worth it, so it might be time to sacrifice the perfect shot for ease of traveling.
Our last trip was to the beach, and I decided to bring my DSLR and my husband's medium size Point and Shoot. After reviewing my photo collection from the trip, I realized I only took ZERO photos with the larger DSLR. I took over 150 with my phone and my other point-and-shoot. Next time, I'll need to think long and hard about whether the DSLR and the space it takes is worth lugging around. We had space in the carry-on suitcase; however, I found myself not wanting to carry it, and I didn't want it to get wet or sandy. At the same time, we're currently planning a trip to Alaska and I already know the big DSLR will be making the cut in our travel bags. I don't want to miss out on the opportunity to get the perfect shot of the once-in-a-lifetime photo of whale watching or a bear sighting.
Download Photos from Camera Card
The second set in getting your gear ready for vacation is downloading any photos still on your camera card onto your digital hub. You can find more about digital hubs here in this post. Whichever camera or cameras make the cut, you'll need to make sure you have room on your camera cards for more pictures. If you decide you have plenty of storage on the cards, now is still the time to download your images. You don't want to be disappointed if you lose the camera and the camera cards. So do it NOW!
Once the photos have been downloaded to your computer or digital hub, you can go ahead and delete the images that were still on the card to ensure plenty of room on the cards. Consider purchasing other cards at this time, so you have plenty of room to take as many photos as you want during your vacation.
Time to Recharge
You don't want to start your vacation with dead batteries, so now is the perfect time to charge any batteries. I'm surprised how long my camera batteries last, but at the same time, I've also tried to get the ideal shot only to realize my camera battery is entirely dead. If your camera uses alkaline batteries, check your supplies and know the necessary number of batteries for your specific camera.
Decluttering
Look through your camera bag and take out any items that are extra that you know you won't use or will add excess weight that is not worth carrying. Consider the camera bag you want to use. You might have multiples, or you might be able to re-purpose another bag that can act as a camera bag.
Preparing the Last Details
Now is also the perfect time to clean the viewfinder and camera lens with a camera-safe cloth. I have a lens filter on my DSLR that covers the front of the lens, so I don't have to worry about scratching the lens itself. Refer to your camera manual for specific details on how to clean it. This is an important step in getting your camera gear ready for vacation, but many times overlooked.
Review Camera Settings
Now is the time to review the camera settings that you don't often use, so you are more prepared when you get to your destination. Consider what type of lighting you'll be shooting in and what kind of action shots you'll be getting and practice while you're at home, so you're ready to go. Maybe pack a mini-guide that's laminated with reminders about your camera settings.
Think about what kinds of photos and group photos you'll want to capture and where you might want to take them, so when you get to your destination, you're ready to go and don't regret not getting the shot. I remember not getting a photo in Hawaii when my husband and I had the gorgeous flower leis around our necks. We had been traveling for about 24 hours, so the last thing on our minds was taking a photo. Although we still had a great time, I just wish I had a picture of us with the leis.
Packing Time
Pack the contents of the camera bag and leave space in your carry-on for your camera bag unless you plan to carry it separately.
On our last trip, we had one TSA worker who wanted the camera bag opened and the camera out, and the next airport TSA worker was adamant about leaving it in. So be prepared either way with your camera gear.
TIP: When it's time to pack your items and travel home, don't forget to look for any battery chargers that you left in the outlets. You'd hate to forget the camera charger and not realize it until the next time you try to charge your camera.
Time to Make Memories
It's time to enjoy your time away. Make the memories you've been dreaming of with your family and friends. There are times you need to put the camera down and enjoy the moment.
Carry a little journal with the details of your trip. Consider keeping it all positive. Write only positive memories down and 2-3 you learned. When you return from your vacation, remember to download your pictures onto one digital hub and in one specific folder so you can easily find the photos. When you return from vacation you'll be glad you took the extra steps to organize your camera gear before vacation; at the same time, don't forget to get ready for the next time you need your camera gear.
Recap: Follow these steps to be prepared and organized with your camera gear, but most of all, enjoy making memories with your family and friends while on vacation.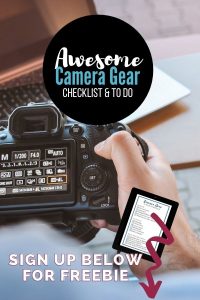 Sign up here for a CAMERA GEAR FREEBIE! This a terrific checklist to get your gear ready before a vacation or other important event. It includes tasks to do before you leave and what to bring. It also is a task list for when you return. This FREEBIE will help you capture your favorite moments and enjoy the memories you created with your family. By signing up here, you also agree to be a part of our email list. You can unsubscribe at any time! ENJOY!!!