---
Remote Digital Photo Organizing Services
Like most people, you probably have thousands of digital photos scattered across multiple devices, cloud storage platforms, and social media accounts. Organizing your photos and memories can be overwhelming, especially when you don't know where to begin taming the mess.
That's where I come in! My remote digital photo organizing services are designed to help you take control of your digital photo collection so you can easily find and enjoy your favorite memories whenever you want.
Below you'll find three options depending on your needs and the number of devices from where your photos are currently stored. I'll centralize, organize, and back up your digital photo collection!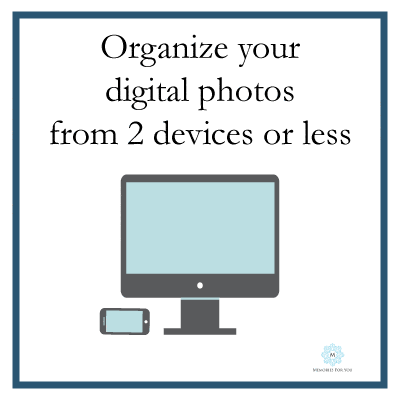 Standard
The Standard service is perfect for a smaller photo collection with your choice of 1-2 devices/sources. Your entire photo collection will be centralized in one digital hub. Duplicates will be separated and removed, your photos and videos will be backed up, and your photos will be organized into folders. I'll do 95% of the work for you, and in the end, you'll have peace of mind that your memories will be ready to create projects you've always wanted to do.
These introductory prices won't last long!

1-2 devices/sources
Introductory Price of
$400.00
($100 deposit due at booking)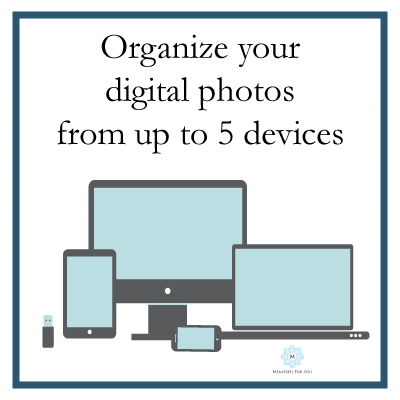 Plus
The Plus service builds on the Standard plan, but you can add three more devices or sources from where your photos will be organized. By the end, all your photos will be centralized into one photo hub. This service is the favorite of the three options because most people store their pictures on more than two devices, but usually, fewer than six devices/sources.

Once again, I'll centralize your digital photos, organize them into folders, and back them up for safekeeping.

These introductory prices won't last long!
3-5 devices/sources
Introductory Price of
$700.00
($100 deposit due at booking)

Premium
Premium is definitely for you if you have an extensive digital photo collection and want to finally get it all centralized in one location but easily accessible from a backup or cloud service. Again, the premium builds on the Standard service; however, this level is needed for those with more than six devices/sources from where their photos and videos are stored. Below is the introductory price that won't last long.

Don't wait any longer to centralize ALL your photos into one place; have them organized for you and backed up for peace of mind.

6 or more devices/sources
Introductory Price of
$1000.00
($100 deposit at booking)