This post may contain affiliate links. This means we may earn money or products from the companies mentioned in this post.
Planning a high school graduation party can be stressful. Planning a graduation party in the year 2022 is even more overwhelming. The memorabilia projects might be what you are most looking forward to as you plan the graduation party. Many times though, photo projects are the tasks we deem as a lower priority, so we procrastinate tackling them. However, with these easy steps, you can organize your graduate's photos, create amazing photo displays, and projects.
Decide on the result for the Graduation Photo Displays
The first step begins with brainstorming and deciding how you'll display your graduate's photos and other memorabilia. It would also help if you took note of how many photos you might need for each project. Here are a few ideas that you might consider when starting to create your graduation photo displays.:
 Photobook with signature space
Photo Albums
Digital Display
Digital Slide Show (on tv, on a computer)
Large Print Table Top Display
Entry Way Displays
Use only photos that are already printed
Photo Albums
Scrapbooks
Baby Books
Framed Photos
School Photo Display
Sports Display
Friends Display
Family Photos
Baby Years
Preschool Years
Elementary Years
Middle School Years
Highschool Years
Favorite Photos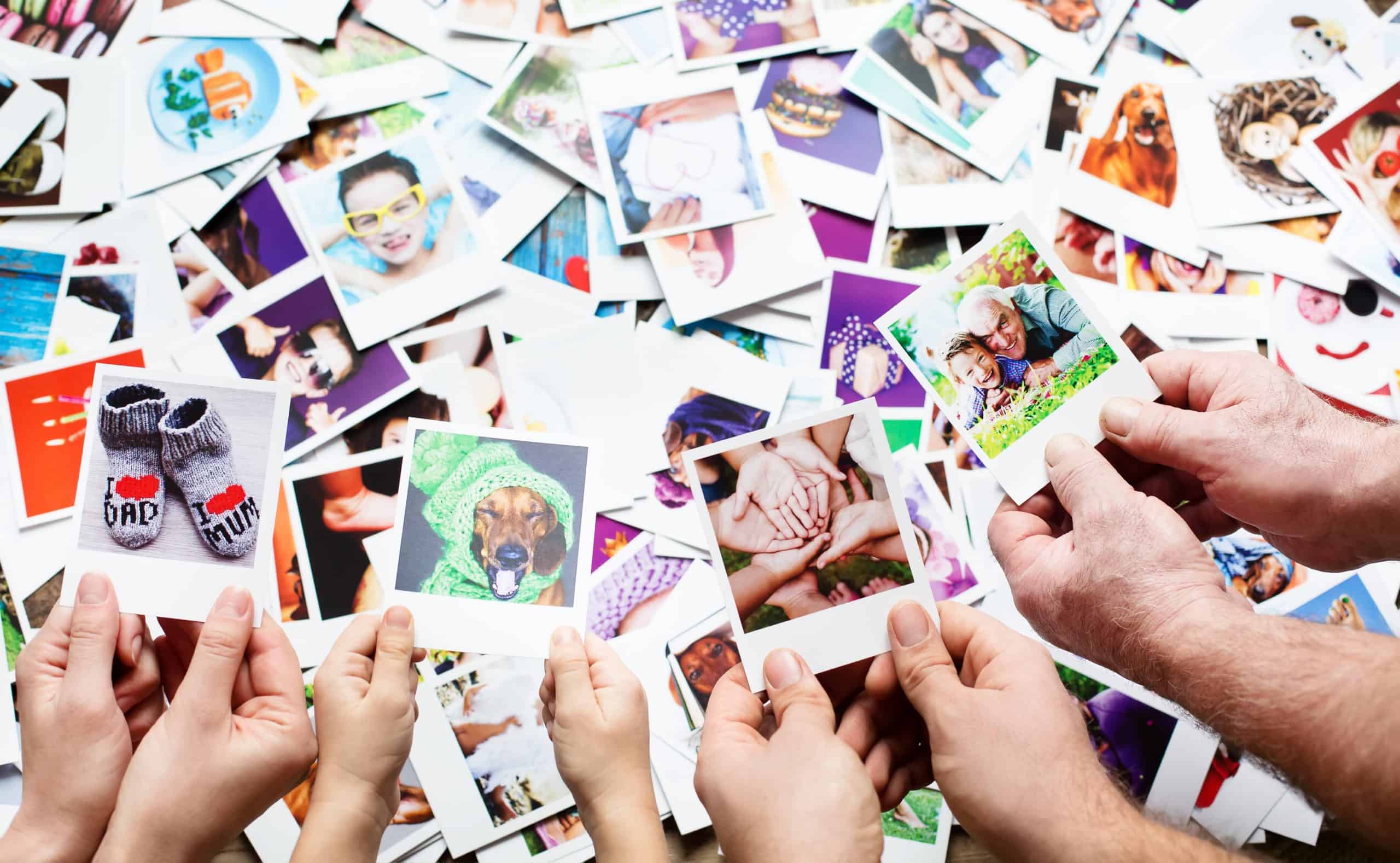 Gather All the Photos
Gather all photos that you plan to use. You might find digital photos on your computer, old computers, phones, iPads, other devices, external hard drives, in cloud backups, and on photo printing service websites.
To find photos on old computers that are maybe lost in folders or in old computer software programs, you can use a device like Picture Keeper that will easily find old digital photos for you. Unfortunately, Picture Keeper will not retrieve other files like video files, so be aware of the limitations. I've used Picture Keeper to retrieve photos on a 15-year-old computer that were hidden in old software programs, and I was delighted when I found lost baby pictures of my son.
You might find printed photos, old scrapbooks, and albums that you want to add to your photo displays. Set these aside or a make note of where the pictures are located so you can proceed to the next step in creating a graduation project.
Need more ideas about how to organize your digital photos? Check out this blog post that will help you get organized before you begin your graduation photo display projects. You'll probably like this post where you'll find photo-related tasks to do now.
Scan your photos
If you have time, you might want to scan printed photos to use in digital slide shows or digital photo displays. You can use a printer/scanner/copier or purchase a stand-alone scanner to scan the images. Clean the glass on the scanner often to reduce the dust. Scan your photos at 600 DPI or higher for quality printing in photo books or other printed photo projects. Scanning your photos makes creating a graduation photo display a piece of cake.
Make Tough Decisions
When making decisions on which photos to use, you'll need to make quick decisions. Now might not be the time to reminisce. You can get stuck in the weeds when it comes to picking out photos. You can't use them all. If you have a 2020 graduate, you won't have enough time to create scrapbooks for every year. Segment into different seasons of life. They might include these: baby, preschool, elementary, middle school, and high school.
Set a Timer and Tag the Photos
Now is the time to pick your favorites. Include your graduate and your spouse in the decision-making. Set a timer for 1 hour and start choosing the photos you want to use. I use Windows File Explorer and tag photos. See this article to learn more about tagging. Tag the name of the graduate. For example, you can use tags like Cory Baby, Cory Sports, Cory High School, or just plain Cory. Moreover, if you create specific tags now, it will help you complete a photo book or other photo projects faster because you can easily search for the photos you want to use.
Upload Images to Photo Websites
If you plan to make photo books or print digital photos, your next step is to upload the images to a photo website of your choice. I've used Shutterfly, Walgreens, and Walmart. I've used the Shutterfly App to upload photos quickly from my phone. In fact, I have it set to automatically upload to Shutterfly making it easy to create photo projects.
Apps will Save Time for your photo Graduation Displays
Apps that you might want to use to save time include Walgreens, Shutterfly, Dropbox, and Photosync. The downloading process will take time. The earlier you start, the better—download photos during times when fewer people are using your Wifi. Using Apps is another great way to create easy graduation photo displays.
Select Photos to Print
Once the photos have been uploaded, you can choose what pictures you want to print. You can also select the images you want to use in photo books and start saving your work as you go. In many of the apps, you can select photos that are your favorites, making it simpler when you want to print the project or photos.
Photo Books
I suggest keeping the design of the photo book simple. Don't get hung up on the details. Having a photo book to share is more important than the order of the photos, which images to include, and the written descriptions for the photos. Have you noticed that many guests don't look at every single page? Keep it simple! In this blog post, I talk about easy ways to create yearly photo books if you want more information about how to create them easily. https://www.memoriesforyouco.com/creating-yearly-photo-books-ease/
Memory Jars
Creating a memory jar lined with a few favorite photos on the outside is a fun idea for the guests to walk down memory lane with the graduate. It's a perfect way for guests to add a little sediment about the graduate so they can keep it for years to come to remember the best memories for high school.
Line the photo displays with string lights bring added interest to the graduation party decor.
Photo table centerpieces
Don't forget to use photos in the table centerpieces. It's the perfect place to add photos of the graduate. We added a photo to a skewer stick, stuck it in a mason jar with cut-up tissue paper, and added the graduation year from a Cricut cutout.
Unique Photo Guest Books
This year I'm creating a photo book for guests to sign. It will have some of our favorite pictures of my son through the years. It starts out with his senior pictures going back in time with some baby photos and ends with his senior year activities. Traditional ballpoint pens will probably be the best option to avoid smudges. You can start your project and work in small chunks of time so it's not so overwhelming. I'll be adding the last few pictures of my son's senior year. You'll not only have a completed photo book your senior will have a place to keep the memories of his or her special day.
Other Digital Photo Graduation Displays
Using a digital photo display like Nixplay will allow you to make fewer hard decisions on which photos to use. The digital photo display will also save you time. Once the images are uploaded to a photo card, you turn on the device, and the photos will scroll a few seconds each. Nixplay photo displays are easy to use and a great alternative to digital photo slideshows.
Another option is to share your graduate's photos on a digital photo slide show on tv or a large screen. You'll be in luck because most kids know how to create digital slide shows in Apple Photos, PowerPoint, Smilebox, just to name a few.
Create Printed Photo Displays
While waiting for the printed photos to arrive, you can start making or designing the photo displays. Look on Pinterest for inspiration. Some of my favorites are large printed banners, displays made with old pallets and used clothespins to hang the photos, and school photo displays attached to individual yard stacks.
We created a large photo display made from lattice and trimmed it out with 1 x 3″s. I just strung thin string the rungs of the lattice and attached them with small clear clothes pins. Another easy idea would be to create a similar graduation display with chicken wire and with wood trim.
We also brought the large 11″ by 16″ senior portrait that we got from our photographer. This was displayed on a small card table with the card box and photo guest book. We had a large display table with scrapbooks, awards, and school artwork. It was a fun way to display his hard work through the years. Above the display table were school pictures from Kindergarten through his Senior year. They were each lined with the blue color scheme we used throughout the decorations.
Other Photo Ideas
Another photo display idea is to make cookies topped with a graduation photo the words "smart cookie" across the bottom is a fun idea to bring photos throughout the graduation party theme.
Set up a photo booth for the graduate and their friends can capture the big day. Having a photo booth is the perfect way to add a fun and entertainment option to your graduation party. Adding a photo scheme that coordinates with the overall theme help tie them together. Photo booths help make the day more memorable for the guest and the graduate. Photo Booths make great party favor. Adding the school colors will help remind the graduate and fellow classmates what brought them together in the first place.
At the grad party, a large photo banner can be displayed above the food table.
If you're like our family you'll be attending lots of graduation parties this year. Take notes of the picture displays, gallery wall, gift table, color schemes, and other display tables for graduation party ideas. You don't need to recreate the wheel and don't worry about copying your friend's ideas.
Don't Forget 
Don't forget to display school artwork or school work, school awards, and sports awards. Make sure you include awards and photos from extra-curricular activities such as 4-H, boy scouts, girl scouts, and church activities. Displaying the graduation cap and gown on the wall next to a photo display is a perfect way to enjoy the memorabilia one more time.
Wrapping up the Photo Graduation Display Ideas
Remember to gather everything into one spot. Keep the end in mind. Tag as many photos as you can. Use apps to save time.  Don't get hung up on details but make quick decisions. Create the photo displays ahead of time, so you're ready to go. And most importantly, have fun reminiscing and celebrating with your graduate and guests. Let me know if you used these easy steps to create a graduation photo display for your graduate.
Below is an amazing free PDF workbook to help you get started with organizing your digital photos for any of your photo projects, including graduation displays.